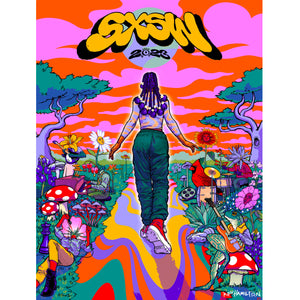 2023 SXSW POSTER
Regular price
$60.00
$60.00
Unit price
per
The Official 2023 SXSW Poster was designed by local Austin artist, Rex Hamilton.  This silkscreen is signed by the artist and hand numbered in a limited run of 400. 
Final artwork may vary slightly. 
Final Size 18x24"
FROM THE ARTIST
My name is Rex Sterling Hamilton, I'm an Artist born and raised in Austin, Texas. I've been drawing my entire life, but I've been a full-time artist for about 9 years. My art style is a combination of figurative, surreal, abstract and pop art. When It comes to subject matter. I initially began replacing skin tones with surreal colors when I decided I wanted my art to be seen as just "Art". I didn't want the color of my skin to be the focal point of my art, and I didn't want that to be the first thing someone would see when they viewed my art. At the time I felt as though black artists were always given the title "Black Artist" and the work, regardless of style, would be grouped together as "Black Art". I just wanted to be seen as an "Artist". And I wanted my art to have a universality to it, I wanted it to feel super inclusive. Art that anyone of any race could appreciate.  
Using surreal colors for the skin would allow anyone to see themselves in the work. Ultimately, we're all humans on a planet, in this together, and I wanted my work to reflect that. Nowadays, as the world has changed and evolved, I feel it's important to be seen as both a Black Artist and an Artist. And now my style has evolved. I represent People of Color and paint them as People of colors.
 www.rexsterlinghamiltonart.com
---