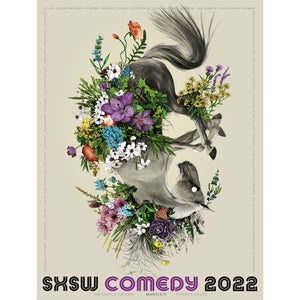 2022 COMEDY POSTER
Regular price
$50.00
$50.00
Unit price
per
Our 2022 Comedy Poster celebrates the comedians who keep the laughs coming. The comedic lineup is proudly featured on the poster. Silkscreened and numbered in a limited run of 100 posters. This 2022 poster pairs perfectly with our 2020 poster for your walls.  Each 2022 silk-screened poster purchased in person will be gifted a digitally printed version of the 2020 poster.  
Final Size 18x24"
About the Comedy Poster Artist: Greg Ruth is a New York Times Bestselling Author of The Lost Boy and has worked making books and comics since 1993. He is published through The New York Times, DC Comics, Fantagraphics Books, Caliber Comics, Dark Horse, Harper Collins, Macmillan, Hyperion, Simon and Schuster, Random House, Slate, CNN, Penguin, MONDO, and Tor. He has created two music videos for Prince and Rob Thomas, and has worked on nearly a dozen children's picture books including Our Enduring Spirit (with Barack Obama), Red Kite, Blue Kite (with Ji Li Jiang), A Pirate's Guide to First Grade ( and Recess)(both with James Preller), and his latest from Feiwel & Friends entitled Coming Home. His comics work includes Conan: Born on the Battlefield (with Kurt Busiek), Freaks of the Heartland (with Steve Niles), Sudden Gravity, The Matrix Comics and Goosebumps with R.L. Stine, INDEH and MEADOWLARK with Ethan Hawke. He lives and works in Western Massachusetts.
A statement from the artist:

I'm not saying we caused the Coronavirus pandemic, but 2020's SXSW was the first major festival to shutter under the weight of the outbreak. The poster I did for that year, without any prior knowledge or sense of what was coming now, seems oddly prescient… so it was a sheer, cathartic delight to be asked to come back and capstone this weird and terrible time and create a new poster for Comedy in 2022. Something we all so very much need in our lives, Since we had time to see that last poster in context of the times, this one had to be a bookend response to it. There was just no other way, and the concept was immediate: explosive growth and blooming flowers everywhere. A laugh hiding in the chaos like a little frog wearing a crown. He's in there waiting for you to find him too.
---